Download and Burn Netflix Movies or TV Shows to DVD
Netflix is the king of streaming service for TV shows and movies. You can subscribe to it to get unlimited access to its full range of movies and TV shows. Netflix also allows you to download select shows and movies for offline watching as well, but the download feature is only available on Android, iOS or Windows 10 Netflix app. And there are also a few other limitations. Firstly, the download feature is not for all Windows 10 PC, and you'll need to be running Windows 10 Anniversary Update or later. Secondly, not all Netflix videos are available for download, and some video only available to be downloaded in a certain time period. Thirdly, once a video has been finished downloading to your device, you only have 30 days to view it offline. Finally, once your subscription was expired, you will lose all downloaded contents.
In this circumstance, you may want to download the Netflix movies or TV shows to your local drive for watching later or burn the movies or TV shows to DVD for playback on DVD player without any limitation. In the following part, you will see the simple tutorial on how to download Netflix movies and TV shows to PC and burn Netflix videos to DVD disc.
Part 1: Download Netflix Movies or TV Shows to Windows PC
To download movies and TV shows from Netflix, you can use Netflix Video Downloader. It is an easy-to-use application for downloading entire Netflix TV shows, movies, documentaries and more with HD quality kept. It also supports downloading subtitles and multiple audio tracks along with the TV shows or movies. The smart search feature enables you to search and add multiple titles to download them in batch with fast speed. Now you can check the simple tutorial on how to download Netflix movies and TV shows with HD quality kept.
Netflix Videos Downloader
Download Netflix movies, TV shows documentaries and more
Download Netflix videos with HD (1080p and 720p) quality kept
Support downloading subtitles and audio tracks
Support fast multi-stream and multi-video downloading
Smart search for Netflix movies, TV shows, documentaries
Modern, clean and user-friendly interface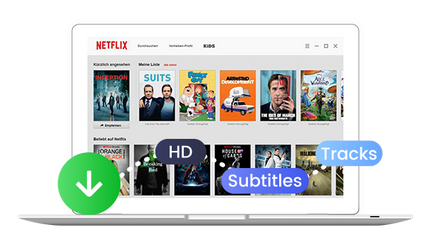 Step 1
Startup Netflix Video Downloader on Desktop
Download and install Netflix Video Downloader from the download button above, then startup this downloader after the installation completes.
Step 2
Customize the Output Settings
Before start downloading, just simply click on "Setting" button to change the video format, video quality, audio type, audio and subtitle language. According to the available disc storage and network speed, you can choose the output quality as High, Medium and Low. The highest resolution supported is 1080p.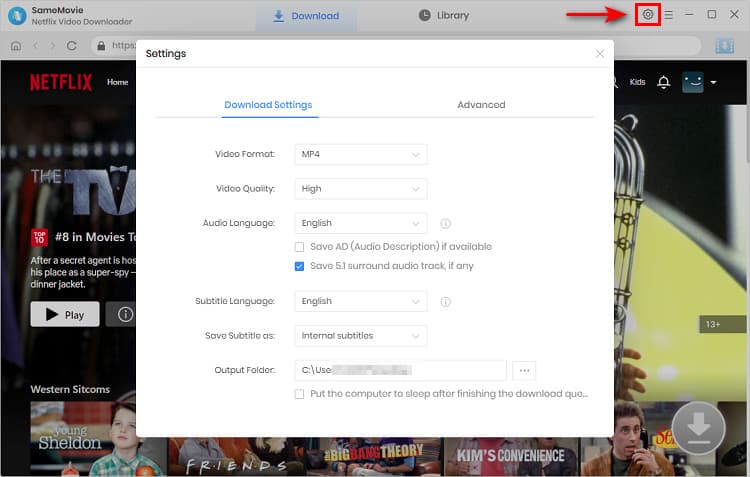 Step 3
Search for the Movies and TV Shows
On the search box of Netflix Video Downloader, you can search for the movies and TV shows you want to download by name or title, then press "Enter" key and a full list of search results will be shown.
Note: A prompt might be shown to ask you to login your Netflix account. Just enter you email and password to continue.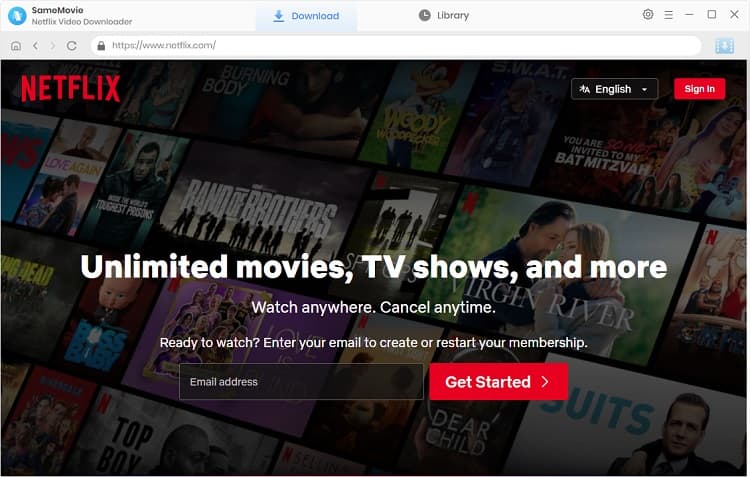 Find the accurate video you want to download and click the "Download" icon to start downloading movies from Netflix.
If you are going to download TV shows, please select the season and corresponding episodes before start downloading.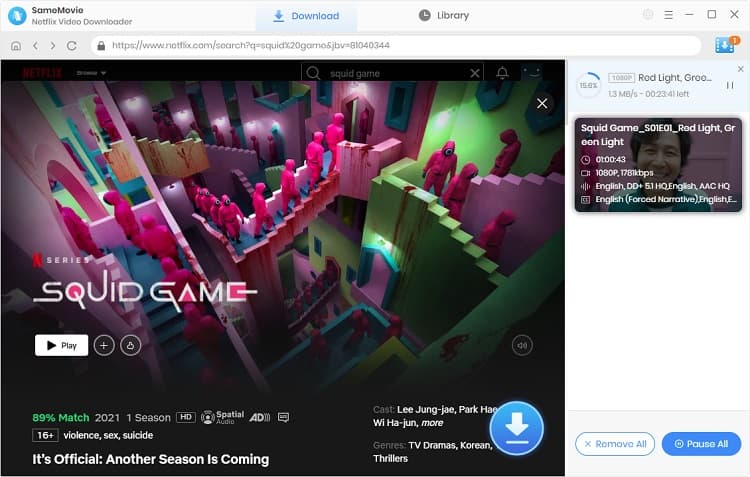 Step 5
Transfer Netflix Videos to Android Phone or Tablets
After the downloading completes, you can click the "Library" tab to check the download history and view the downloaded files on the output folder.
Once you have downloaded the Netflix movies or TV shows, you can transfer the downloaded videos to your iPad, iPhone, Android, PS4, Xbox One, or TV for watching later without internet connection. Or you can burn Netflix videos to DVD for playback on your DVD player.
---
Part 2: Burn Netflix Movies or TV Shows to DVD
To burn the downloaded Netflix movies or TV shows to DVD Disc, you can use Any Video Converter to do this job. Any Video Converter Free enables you to burn videos to DVD with totally zero cost. If you want to burn Netflix video with DVD menu, you need Any Video Converter Pro version to enable the DVD menu as you like, such as naming your CD/DVD in DVD Menu Tile, browsing music file from your local computer for your DVD in Background Music, changing your DVD's background image in Background Image and more.
Step 1
Put a DVD Disc to CD/DVD Drive
Before starting, you will need to put a blank DVD (DVD-RAM, DVD+R, DVD+RW, DVD+R Dual Layer, DVD-R, DVD-RW, DVD-R Dual Layer) or Blu-ray Disc to drive.
Step 2
Add the Downloaded Netflix Video
Click on "Burn DVD" tab, then click "Add Video(s)" button. Press Ctrl or Shift to select more than one Netflix videos at one time in file folder. Or click on "menu" button in the upper right corner of the main window and choosing "File" > "Batch Add Video Files" to add video clips from single or multiple folders.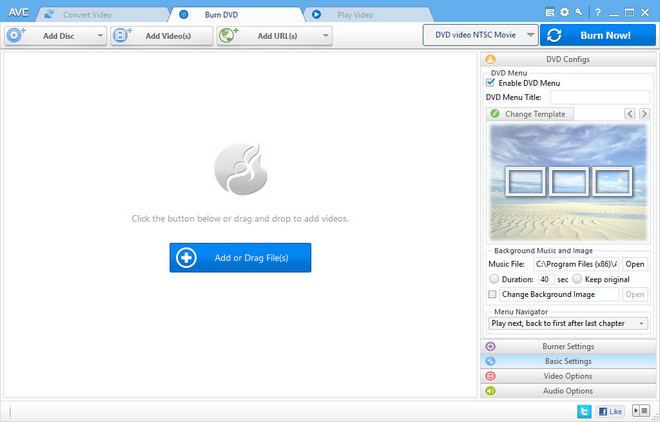 After you add Netflix videos, all of them will be displayed on the middle panel with their detailed information, including duration, format, video codec and size, etc.
Step 3
Choose the Output Format
Unfold Output Profile, choose Burning to DVD from the list, and then choose DVD video NTSC Movie, DVD video PAL Movie, AVCHD 1080p Movie or AVCHD 720p Movie according to your TV system. AVCHD DVD can be only played on Blu-ray player or DVD player that supports AVCHD DVD playback.
You can also choose DVD Menu before start burning.
In DVD Menu Tile, you can name your DVD and input it into the box directly.
In Background Music, you can browse music file from your local computer for your DVD.
In Background Image, you can change your DVD's background image by click Browse Image File to select your desired image from your computer.
In Menu Navigator, you can choose the playback mode for your DVD.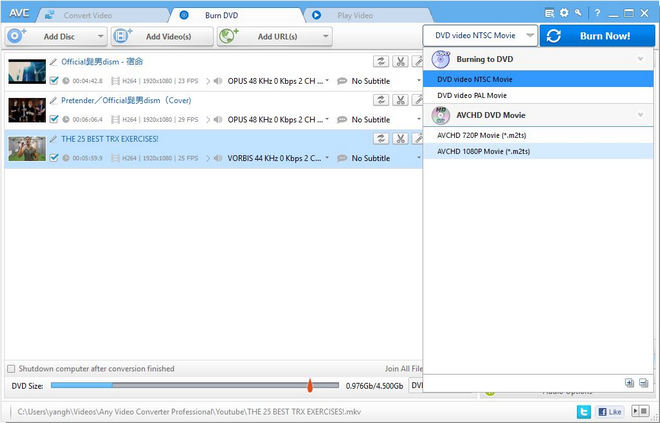 Step 4
Start Burning Netflix Movies or Shows to DVD
Click on "Burn Now!" button to start encoding videos and burning videos to DVD. While the conversion has finished, it will automatically start burning converted videos to DVD.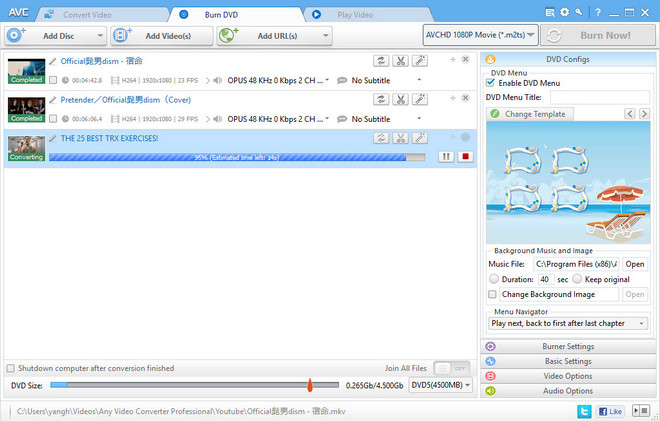 Note: If the inserted disc is not empty, you will be prompted to erase the disc. Click "Yes", all data on the disc will be overwritten!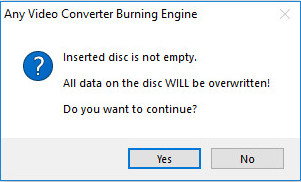 During the process of burning, you can view burning information like DVD Size, Burn Time, Burn Status at the bottom of window.

After Any Video Converter Pro finishes to burn Netflix movies or TV shows to DVD, it will pop up a Burning Engine to congratulate you that your disc has been successfully burned. And you can click "OK" button, the drive will automatically eject the disc.

Now you can put DVD to your DVD player or Blu-ray DVD player for watching with your family on TV system. Or keep your favorite videos to DVD for collections.
---
Video Tutorial: Burn Videos to AVCHD DVD (Blu-ray Disc) with High Quality
---