Denoise: How to Remove Noise from Your Footage?
Has your footage disturbed by flicker or noise and how to fix the noisy/grainy footage?
Why is your footage so grainy and full of noise? Poor shooting light is the significant cause of noise and grain of your footage. In addition to exposure problems, sensor heating, external signal interference, enlargement, and compression of video data may contribute to noise or grain on the final footage. To demonstrate the best visual effects to your audience, you can take full advantage of your camerawork to avoid any possible defects. For the videos that already contain visual grain or noise, professional noise reduction software is essential in post-processing to reduce or remove visual grain to a great extent from the footage.
How to reduce or remove noise from a video to make the audience have a better viewing experience? In the following part, we will share with you how to reduce or remove noise from a video, and we hope to help you.

Method 1: Reduce or Remove Video Noise with AI-assistant Software
With the help of AI-powered software (AVCLabs Video Enhancer AI), the noise and grain will be reduced or removed automatically, without needing to fine-tune by yourself and much technical ability or skills. AVCLabs Video Enhancer AI fully harnesses the deep learning power of the neural network to remove digital noise and other imperfections like scratches, artifacts and enhance the video quality at the same time.
AVCLabs Video Enhancer AI
Enhance the video quality to make them more aesthetically pleasing.
Deblur your footage frame by frame by using machine learning.
Intelligently upscale videos from 480p to 1080p, 1080p to 4K, and 8K.
Upscale low-res videos onto a larger screen without destroying the quality.
Trim your footage frame by frame to save processing time.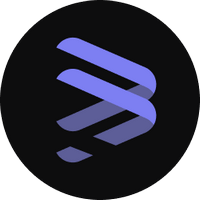 Let's look at how AVCLabs Video Enhancer AI removes noise from video while recovering real detail in the footage and enhancing the video quality.
Step 1
Launch AVCLabs Video Enhancer AI
Download the installation package of AVCLabs Video Enhancer AI and install it on Windows PC. Launch AVCLabs Video Enhancer AI and you will enter the main window of AVCLabs Video Enhancer AI shown below.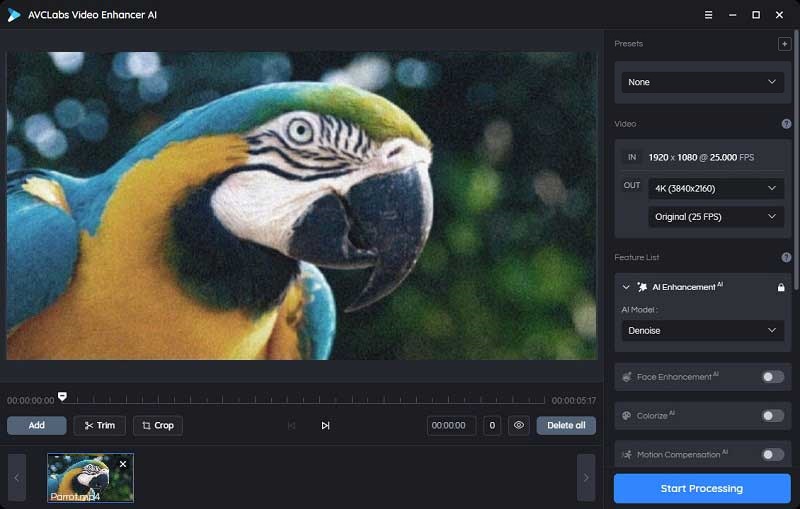 Click "Browse" button in the middle of the application to open a file pop-up window and select a video file.
Step 3
Select the Processing Models
Turn on AI Enhancement. Then choose "Denoise" in the AI Model.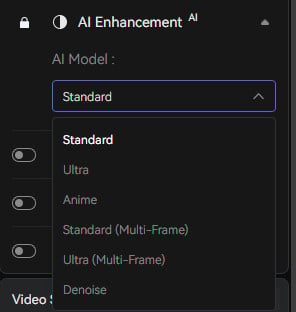 Step 4
Start Processing the Video
Click the "Start Processing" button to render your video. The program will start processing frames of your source video and assembling the video. After the conversion is completed, you can click the "Open Folder" button to check the output video.
---
Method 2: Reduce or Remove Video Noise with Video Editors
For professional video editors or YouTubers, video editing software is a must-have tool. Thankfully, some video editing tools come with the built-in noise reduction effect or plugin to help users remove noise/grain from their footage, with the customized controls for fine-tuning. Here we have picked some of the best video editing software that you can use to easily remove noise/grain from your footage.
1. Adobe After Effects
Adobe After Effects is one of the powerful video editing software for professional video editors to create fancy titles, fantastic animations, transform shots, and apply a wide variety of effects. What's more, After Effects is also greatly helpful for fixing noise, with which you can denoise by changing the variables. Let's take a look at how to remove noise/grain with After Effects.
Step 1
Run After Effects and import the grainy footage.
Step 2
In the "Effects & Presets" panel within Adobe After Effects, you will find the Remove Grain effect under Noise & Grain. Then simply apply this effect to the grainy footage you want to fix.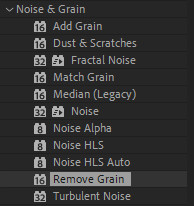 A small rectangle will appear on top of your grainy footage. This rectangle gives you a preview of what your footage will look like with the Remove Grain effect applied.
Step 3
If you want to see the noise/grain removed from your entire footage, you can switch the Viewing Mode to Final Output.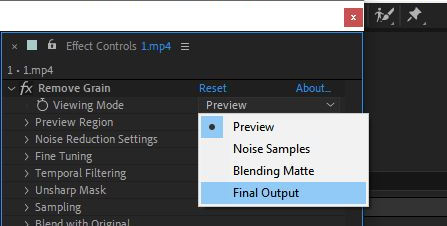 Step 4
Under the Remove Grain effect, there are a lot of settings that you can adjust to optimize your final video footage. On the Noise Reduction Settings, you can change the values to reduce noise in your video. Please note that higher values will remove more noise, but potentially also make your video slightly blurry.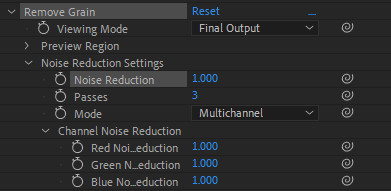 ---
2. Final Cut Pro X
Final Cut Pro X is the best option for video editors in the Mac environment. It provides all the professional editing tools that the competitors have and a fast workflow for video editing. More importantly, Final Cut Pro X is available via a one-off purchase and free to upgrade when the new version is released, so you do not need to pay for it monthly or yearly. With Final Cut Pro X, you are able to reduce video noise simply and quickly. Let's follow these simple steps to do this.
Step 1
Prepare your video clip. Add the grainy video into the Timeline.
Step 2
Click Command + 5 and go to the Effects. Under the Basics, you will find the Noise Reduction filter. Adjust the Amount to High and Sharpness to Medium.
---
Method 3: Reduce or Remove Video Noise with Neat Video (Plug-in)
Neat Video is a plug-in or standalone product that allows you to control, reduce and eliminate grain or digital noise from your video. It is highly compatible with most of the video editing software, such as Adobe After Effects, Adobe Premiere Pro, DaVinci Resolve, Vegas, Magix, Edius, Virtual Dub, Final Cut Pro X, Motion 5, OFX, Resolve, and Media Composer, in Windows, macOS and Linux environment. In the following tutorial, we will demonstrate how to use the Neat Video plug-in to remove noise from video. This tutorial is for Neat Video v5 plug-in for After Effects.
Step 1
Download Neat Video plug-in according to your video editing app and operating system. If you want to try Neat Video before purchase, please download the Demo plug-in. Then click the Setup file to install Neat Video plug-in on your computer.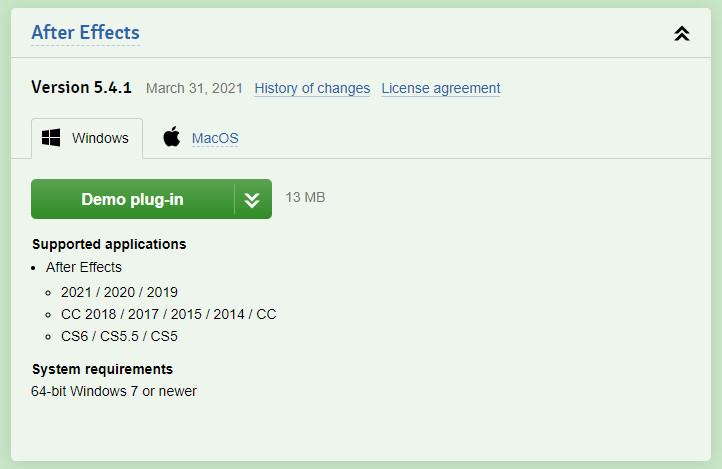 Step 2
Launch your video editor and select the grainy video in the Project panel and drag &drop the clip into the composition.
Step 3
Use the Effect > Neat Video > Reduce Noise v5 menu item to add Neat Video to the layer. This will add Reduce Noise v5 to effects in the Timeline and Effect Controls panels.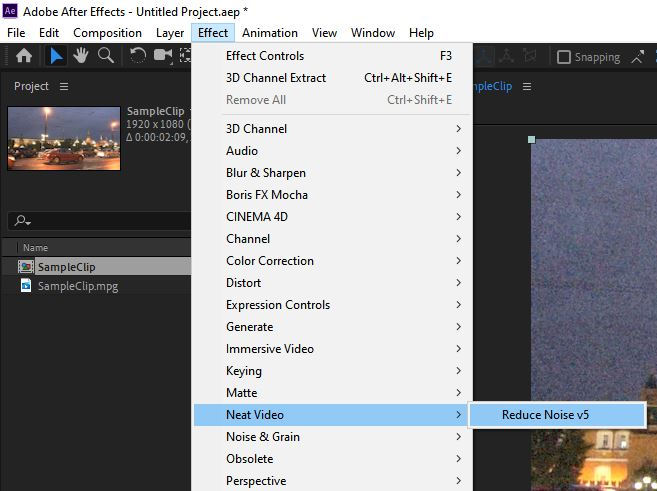 Step 4
Open Neat Video plug-in window. Then prepare a noise profile using the Auto Profile function. Neat Video will automatically find an area without details and will analyze noise in that area to build a new noise profile.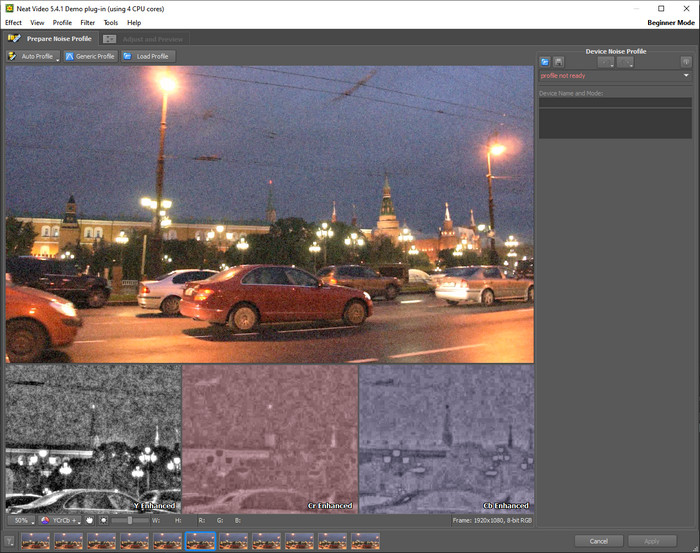 Step 5
Switch to the Adjust and Preview tab and you will notice that Neat Video has already applied noise reduction based on the default filter settings and the preview shows a clearly visible difference.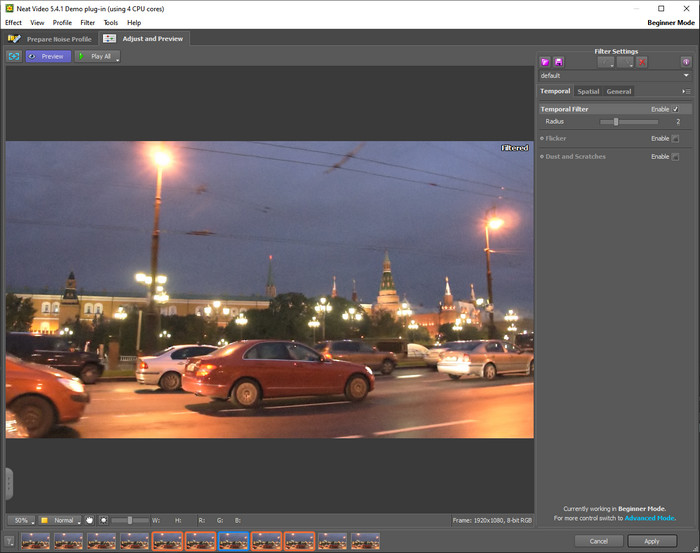 Step 6
Click Apply at the bottom of the plug-in window and render the video.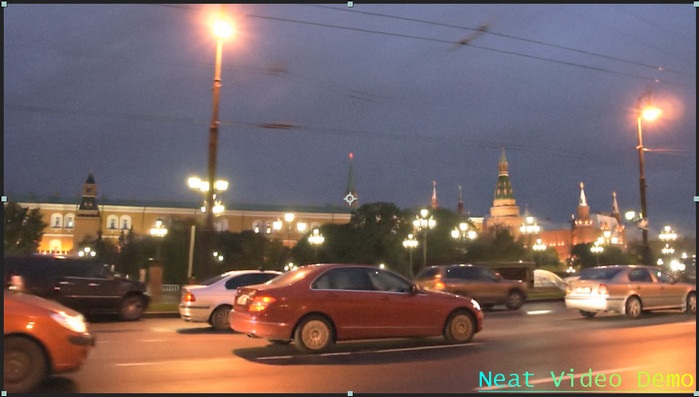 Video noise is normally caused by poor lighting, higher ISO setting, small sensors on mobile phones or GoPro. It is important to check why you might have a grain or noise issue and know how to use the video noise reduction tool. It is not that an easy job to remove video grain or noise with video editing software unless you have acquired enough editing skills or technology. What's more, the original visual quality can not be 100% guaranteed after being applied the Remove Grain & Noise effects. In other words, if you want to remove video noise without needing the slightest effort, AVCLabs Video Enhancer AI is your must-have tool, with which you can denoise with the power of GPU and artificial technology, and enhance the visual quality to the great extent.
Try AVCLabs Video Enhancer AI to remove noise from your footage automatically.
---
Final Words: How to Avoid Grainy Video?
Although you have gotten into how to use the video noise denoiser/video denoise reduction or removal tool, it's also important to learn how to avoid video noise in shooting with your camera, because the overall results will be better. You can follow the 4 tips to help you avoid grainy video footage.
1. Bring more external lighting. Using more external light sources for supplementary shooting lighting is a frequently adopted method. The maximum and reasonable use of light sources can achieve the video shooting quality you want.
2. Avoid a high level of ISO. Avoid a high level of ISO. ISO one of the elements used to control exposure that allows you to set the sensitivity of the camera sensor to light. Lower settings make the sensor less sensitive to light while increasing the ISO makes the sensor more sensitive to light. However, as you increase ISO, more noise is introduced to the video.
3. Keep your aperture open. It is necessary to keep your aperture open appropriately in order to capture a great, worthwhile video.
---
Highly Recommended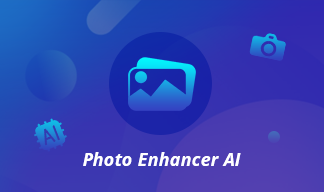 AVCLabs Photo Enhancer AI
AVCLabs Photo Enhancer AI is undoubtedly your best choice ever to upscale the low-res image and enhance its quality. It is an all-in-one AI Image Denoiser, AI Image Upscaler, AI Image Sharper, AI Portrait Photography Enhancer, AI Background Removal, AI Color Calibration, and AI Image Colorizer.
Read More