Any Video Converter - A Trustworthy MKV converter
Any Video Converter is the best MKV Video Converter can help you to convert MKV files to the formats fitting for your portable players. This user-friendly MKV Converter can easily convert MKV, AVI, WMV, MPG, MKV to AVI, HTML5, MP4, WMV, FLV, 3GP, 3G2, MOV, MPG; and extract audio from MKV to MP3, AAC, M4A, FLAC, WMA, WAV, AC3, OGG for your iPod, iPhone, iPad, HTC, Nokia, Samsung Galaxy S3, PSP/PS3, Xbox and other MP4 Player.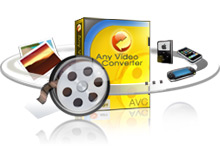 Besides its excellent converting feature, MKV Video Converter also supports trimming a large MKV file into several small ones, customizing output file size, adjusting video & audio parameters, capturing movie images you like while previewing MKV video and save as PNG, cropping black borders from the original MKV files, applying special video effects to your MKV files.
If you are running Mac system, you can get Mac version for this mkv video converter -- Any Video Converter for Mac. It is the best video converter to converts video file formats between AVI, MP4, MOV, MPEG, 3GP, ASF, FLV etc you desired. So it will performs the best AVI converter, 3GP converter, MP4 converter for Mac users and so on. Besides, it also features the functions as Video Converter, DVD Converter, DVD Creator, Screen Recorder, iPod Manager, Video Editor and Audio Extractor.
With MKV Converter, you can also convert High Definition videos including M2TS, MTS, TS, TOD, TP, MOD, MOV, and QuickTime videos to HD MKV videos using different codecs including xvid, mpeg4, msmpeg4, msmpeg4v2, mjpeg, wmv1, wmv2, mpet2, mpeg1, h263p, x264, huffyuv, ffv1.
Convert AVI to MKV
MKV files allow "soft subs", which can use nicer fonts and look much nicer with high resolution monitors on PCs, even with a low res encode. They can also host multiple audio tracks & subtitles, which make them much more popular, particularly for HD sources. While AVI files MUST be hardsubbed, that is, the subtitles must be a part of the picture stream, so there can be no option to turn them off. AVI files only enjoy one audio track, so there's no option to get multiple languages. Compared to AVI files, MKV files tend to be in a better quality and smaller file size. Therefore, it may be desirable to convert AVI to MKV with Any Video Converter to save space and make a more streamlined digital video file for better enjoyment.
Convert MKV to MP4
MKV file format is becoming more and more popular now. However, most of the players, such as iPad, iPod, iPhone, PSP/PS3, HTC One Series, Samsung S3, Nokia, BlackBerry can't play MKV videos. This causes headache to many people. So, you need to get a MKV to MP4 converter. Any Video Converter can help you freely convert MP4 to MKV or MKV to MP4 for almost all popular portable devices. Meanwhile, you can convert the audio from your MKV files and save them as MP3, FLAC, AAC, OGG(Ogg Vorbis Audio), WAV(Nokia WAV Audio), M4A(Nokia M4A Audio), WMA(Windows Media Audio).
Burn MKV to DVD Disc
Burn MKV to DVD as well as burn all standard and HD videos to DVD without any glitches to NTSC or PAL video standard according to your TV system is also available now. Any Video Converter supports burning video to multiple playable DVD formats:CD-R, CD-RW, DVD-RAM, DVD+R, DVD+RW, DVD+R Dual Layer, DVD-R, DVD-RW, DVD-R Dual Layer, random access writes.
Note: If you need to convert DVD to MKV files, just take the Ultimate version. Any Video Converter Ultimate is an easy to use DVD to MKV Converter, which enables you to convert most commercial & home made DVD to MKV with great quality and super fast speed.
Convert TS to MKV
"TS" stands for Transport stream which is a format specified in MPEG-2 Part 1. Its design goal is to allow multiplexing of digital video and audio and to synchronize the output. Then how to convert TS to MKV? Any Video Converter is a powerful and professional TS to MKV converter, which can convert TS to MKV perfectly. With super fast speed and an easy-to-use interface, it makes TS to MKV conversion routine very simple. Besides that, Any Video Converter also allows you to convert other HD formats including HD AVI, AVCHD (.mts, .m2ts), HD H.264/AVC, HD MKV, HD Quick Time, HD MPEG-4, HD ASF, etc.
Advanced Subtitle & Audio Tracks Settings
If your MKV files contain multiple subtitles or audio tracks, you can freely select your desired subtitle and audio track. Go to the right panel and unfold "Audio Options", you will find the"Subtitle" & "Audio Tracks" options, select suitable subtitle or audio tracks from the drop-down list.
If your MKV files has no subtitles, you can also easily create and add subtitles to MKV file by yourself. Just place a .srt subtitle file to the original MKV file folder, run Any Video Converter, go to the right panel, unfold Audio Options to find "Subtitle" option to get the subtitle you add.
Note: Any Video Converter will also provide you some advanced video and audio settings, such as Audio Track, Subtitles, Video Encoder, Frame Size, Video & Audio Bitrate, Audio Encoder, Channels, etc. These advanced parameters are available for professional users.
What is MKV?
An MKV (Matroska Video) file is not your regular video and audio compression format. An MKV file is an open source container format. It is a general-purpose audio and video container and a competing format to the more popular AVI and MP4 formats. With its futuristic design approach, it can provide support for a vast number of audio, video and subtitle compression formats. Its features exceed even those of AVI and MP4 files.
Specifically, MKV is a Matroska file - an open source container that houses an unlimited amount of video, audio, and even subtitles data in a single file. Its primary purpose is to create a unifying or universal format for multimedia storage with the benefit of being completely open source.
---

Video Converter

DVD Converter

Video Editor

Enhance Video Quality

Enhance Image Quality

Remove Objects