AI Video Deinterlacing Tool | How to Deinterlace Videos on Mac without Quality Loss
"How do you deinterlace a video on a Mac? Does deinterlacing improve video quality?" - Tom Wolsky
How to deinterlace videos on Mac is one of the most popular questions on the Apple forum. If you've ever noticed ugly horizontal lines or blurry edges around objects while watching a video, then what you're seeing is most likely an interlaced video. You can choose to deinterlace to fix interlaced videos. Just follow this article to learn how to deinterlace video on Mac with a useful video deinterlacing software for Mac and then you can play any video with the best output image.

Part 1: What Is Video Deinterlacing
Deinterlacing video is in practice a process of converting interlaced videos into progressive videos.
Interlaced Vs. Progressive, Which Is Better

Actually, interlaced scan and progressive scan are the two most common ways to record and display a video image, which helps you gain a better understanding of fixing video interlacing issues.
The difference between the interlaced scan and progressive scan involves how they display a frame. Interlaced video divides a frame into even filed and odd files to display while progressive video displays the entire frame at once. Interlacing provides full vertical detail with the same bandwidth that would be required for a full progressive scan, but with twice the perceived frame rate and refresh rate.
When cost and complexity are factored out, progressive is the better scan type because it reduces flicker and artifacts and provides a clearer image.
After learning the difference between deinterlaced videos and interlaced videos, now let's move to the next part to learn how to deinterlace the interlaced videos using a powerful AI Video Deinterlacing Tool.
---
Part 2: How to Deinterlace A Video on Mac Using AVCLabs Video Enhancer AI
AVCLabs Video Enhancer AI is a great AI Video Deinterlacing Tool aimed to deinterlace videos without losing quality and get rid of shaky sections. Driven by the powerful deinterlacing algorithm, AVCLabs Video Enhancer AI uses a neural network to improve the video quality and upscale video from SD to HD (720p or 1080p), to 4K, and even up to 8K automatically and intelligently in one click, with super-resolution upscaling and multi-frame enhancement. Apart from the higher resolution, video sharpness, and quality, consistency also gets enhanced considerably. No advanced video editing skills are needed during the whole process of deinterlacing videos.
Video Enhancer AI
Enhance the video quality to make them more aesthetically pleasing.
Deblur your footage by using machine learning.
Upscale videos from SD to HD, HD to 4K.
Upscale low-res videos onto a larger screen.
Trim your footage frame by frame.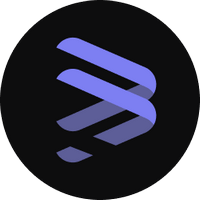 Let's follow the easy steps to deinterlace a video clip on Mac.
Step 1
Install and Run AVCLabs Video Enhancer AI
Warm tips: you can click here to check whether your Mac computer is capable of deinterlacing a video with AI.
Firstly download and install AVCLabs Video Enhancer AI for Mac and then double-click on the icon to launch it. You will see the intuitive interface shown below.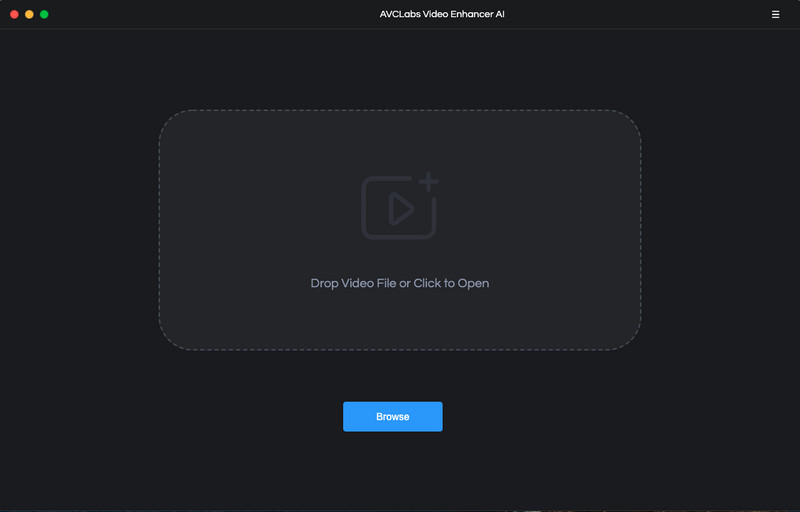 Step 2
Import the Interlaced Video You Want to Fix
Directly drag &amp drop the interlaced videos from your computer to the program or click on the Browse to import interlaced videos to AVCLabs Video Enhancer AI.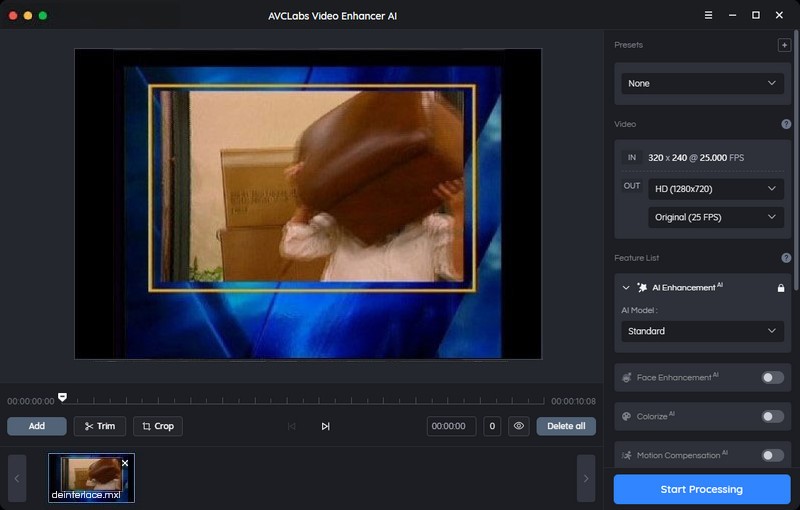 Step 3
Select the Appropriate AI Feature and Set the Output Parameters
To deinterlace the video, you need to enable the AI Enhancement feature and the Video Settings to check Deinterlacing option.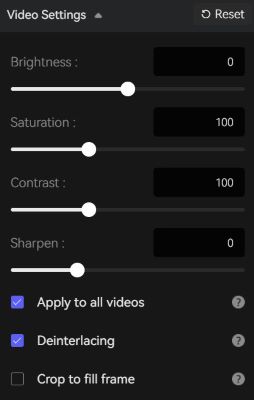 Before deinterlacing a video, you need to do some preparation work. You are allowed to modify some critical parameters like the processing model, output resolution, output format, and output path according to your need. To beautify the face details in your video footage, you are able to turn on the Face Enhancement option. Moreover, you are allowed to set the output video format as you prefer. There are five formats for your options: MKV, MP4, AVI, MOV, WEBM.
If you just need to deinterlace a clip of an interlaced video, you can trim the unwanted parts frame by frame to save processing time. At the bottom of the program, you can trim your video to the desired length by dragging the slider bar. Or input the start and end of the frames to set a clipping point accurately.

Step 5
Start Deinterlacing A Video Automatically
Once all the preparation works are done, click on the Start Processing button to deinterlace the video. You do not need to do anything and AVCLabs Video Enhancer AI will optimize the video frame by frame automatically. The final processing time depends on your computer's system configuration and video size.
After the video deinterlacing process is completed, you can just open the file folder to check the deinterlaced video.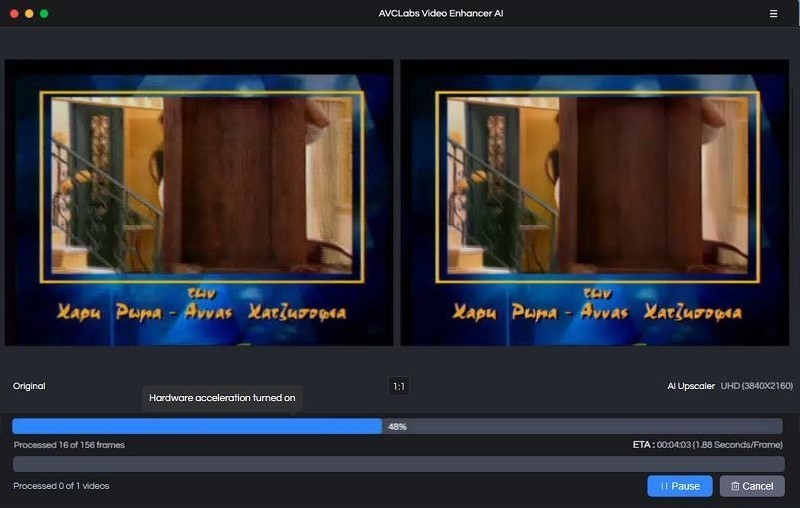 ---
Part 3: FAQs of Video Deinterlacing
In this part, we would like to introduce the most frequently asked questions about video deinterlacing.
Q1. Can I deinterlace a video in VLC?
The answer is Yes, VLC Media Player comes with a built-in Deinterlacing feature for users to automatically deinterlace a video. Just run VLC on your computer, go to the Preferences window, locate the Deinterlacing option, and then enable the Automatic Deinterlacing there. You can also open a video with VLC and click on the Video option on the menu bar, then go to the Deinterlace from the drop-down list. Lastly, choose the On option to enable the video deinterlacing.
Q2. Does deinterlacing improve the video quality?
Yes, after you deinterlaced a video, your operation will reduce the shaky section and make the image clear. In that case, the deinterlaced video will have a relatively higher video quality.
Q3. Can I deinterlace a video online?
Yes, there are various video deinterlacing sites on the market that can help you directly deinterlace a video online. You can use the popular Pixop Deinterlacer tool to deinterlace your video on any web browser such as Google Chrome, Firefox, or Safari.
---
Conclusion:
Hopefully, you've learned the difference between interlaced videos and deinterlaced videos after reading this post. If you get a video file that hat has a shaky section when you pause the playback or attempt to slow it down, you can use the video deinterlace software - AVCLabs Video Enhancer AI recommended in this post to solve the problem.
---
Try AVCLabs Video Enhancer AI to breathe new life into your footage!
---

Video Converter

DVD Converter

Video Editor

Enhance Video Quality

Enhance Image Quality

Remove Objects