AVCLabs Photo Enhancer AI Review
AVCLabs Photo Enhancer AI is a photo enhancement software developed by Anvsoft Inc. From its name, we know that this photo enhancement tool is different from other normal tools. It contains numerous complicated algorithms which help users significantly improve their bad quality photos. Also, users are not required to have any background knowledge about photo editing. This photo enhancement tool will deliver a pro-level edited photo automatically even though users have no idea about photo editing. Additionally, AVCLabs Photo Enhancer AI is good at enhancing animations' performance.
How Much Does AVCLabs Photo Enhancer AI Cost?
AVCLabs Photo Enhancer AI mainly provides 3 subscriptions to their users. The most popular choice is the $19.95 monthly subscription. If you find that this photo enhancement software is excellent and want to keep using it, I highly recommend you to try the more economical $79.95 year plan or $159.90 lifetime plan.
I believe that not everybody is happy to pay for photo enhancement software. Fortunately, AVCLabs Photo Enhancer AI allows their unsubscribed users to improve photos with a watermark on the output photo. If you don't mind the watermark staff on the photo, you can just use it without paying anything. As for their subscribed users, AVCLabs promises technical support within 24 hours from Monday to Friday.
Photo Enhancer AI
Enlarge and upscale image without losing quality.
Sharpen image edges and deblur image online 100% automatically.
Upscale low-definition photos to HD.
Enhance color and contrast with only one click.
Remove backgrounds from a batch of images automatically in one click.
No editing skills are needed.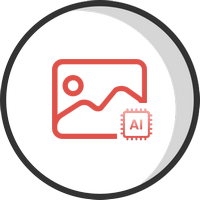 ---
User-Friendly Interface
Unlike other traditional photo editing software, AVCLabs Photo Enhancer AI has a very simple operating interface that you can only find a 'Browse' button in the beginning. New users could easily find a way to upload photos they want to improve even though they don't read the product manual. After we have uploaded photos to the program successfully, we will see a preview of the original photo in the middle.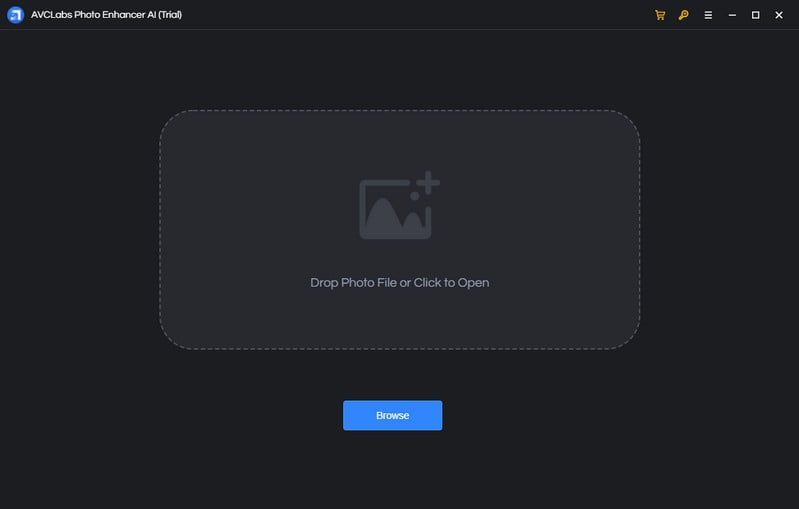 On the right side, there are 'Crop' and 'Preview' buttons. By clicking the 'Preview' button, users can check the difference between the original photo and the improved one.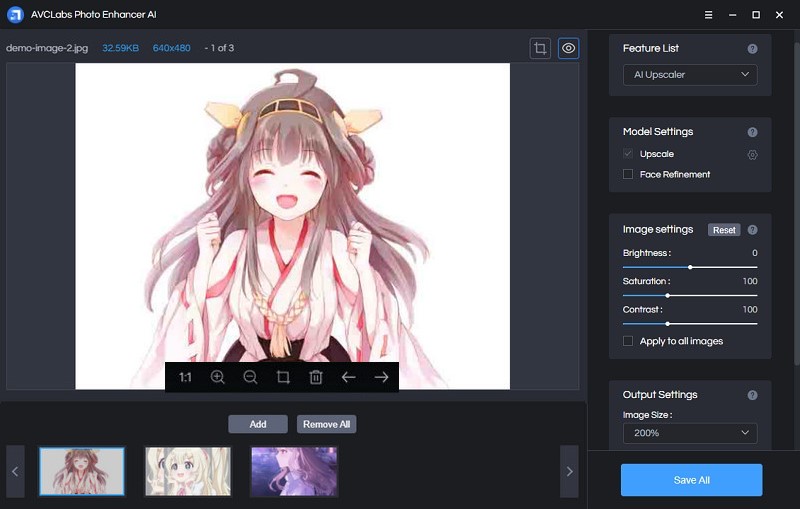 On the right side of its interface, users can choose the specified AI model to enhancer their photos performance. Currently, AVCLabs Photo Enhancer AI provides its users with 5 main models including AI Upscaler model, AI Denoiser model, AI BG Removal model, AI Color Calibration model, and AI Colorizer model. This photo enhancer also allows users to upscale photos without losing quality. After the preset work is done, we just need to click the 'Save All' button to start enhancing photos.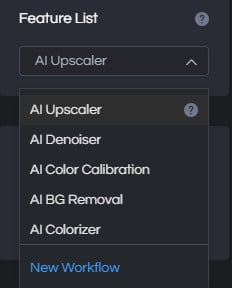 ---
Operating System And Other Configurations Requirements Using This Software
AVCLabs Photo Enhancer AI has a relatively high requirement for users' computers because of its complicated algorithms and numerous training sets. It's kinda hard to run this program on a computer with an outdated processor or GPU. To have the best experience while using this program, a 3GHz Intel/AMD processor or above is highly recommended. Also, If you want to use GPU acceleration, I suggest choosing at least NVIDIA GTX 745 or higher.
---
Powerful Models to Enhance Photos Quality
Upscale AI model is the optimal choice when we want to see a significant enhancement on the improved photo. Since AVCLabs Photo Enhancer AI is based on AI and contains numerous complicated algorithms, it has relatively high requirements for computer configuration like GPU and graphics cards. If the GPU of your computer is not powerful enough, you may need to wait for a long time while using this model.
With this powerful built-in AI model, users can improve their bad-quality photos in just a few minutes. A lot of people may have some blurry photos taken several decades ago, it's too hard to fix them if we still use the traditional photo editing tool. I have tested a couple of times on this model and find it did an excellent job of restoring old blurry photos. Additionally, this model is good at color correction and deblurring, especially for anime photos.
---
Special AI BG Removal and AI Colorizer Models
AVCLabs Photo Enhancer AI not only helps users to improve photos quality but also allows to remove the background of photos with one click. Compared to enhancing photos quality, removing photos' background is not very hard using traditional photo editing tools. It may spend us several minutes to do that if we are using the traditional tool. By using the built-in AI BG Removal model of AVCLabs Photo Enhancer AI, users could easily remove the backgrounds of their photos with just one click. This model is more beneficial to commercial use since sellers only want to show the product itself.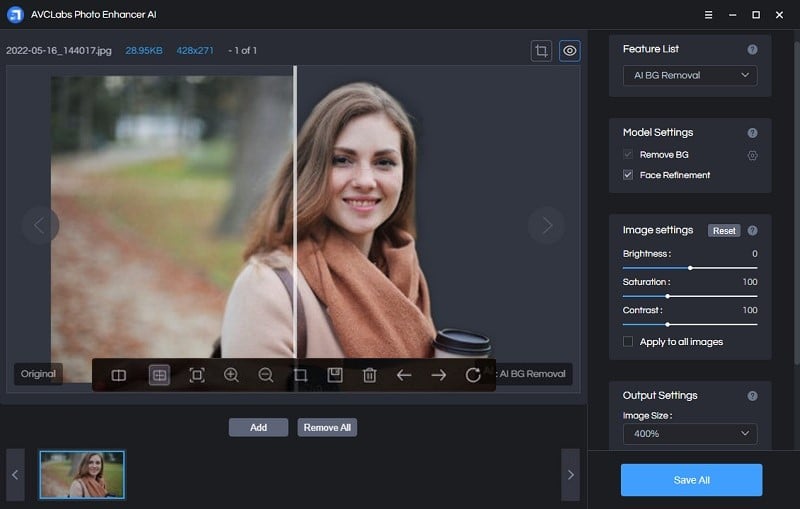 The AI Colorizer model was designed to colorize black and white photos and it was just released a few days ago. I had been testing this model using different kinds of black and white photos and find that it's an excellent tool to colorize black and white photos to a specified color. In this situation, I would highly recommend you to use this model.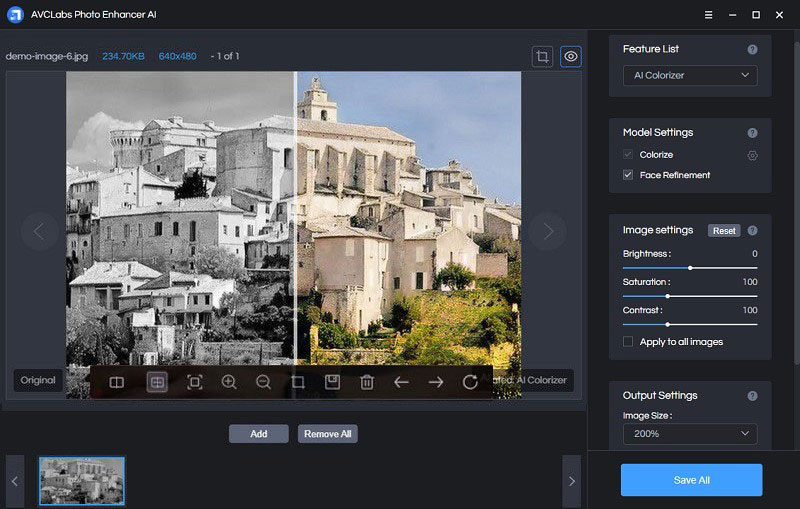 ---
Enlarge Photos without Losing quality
Before the appearance of AI photo enhancement tools, it's impossible to enlarge a photo without losing its quality. Even a professional photo editor cannot promise he/she could do that. Since artificial intelligence has been applied to photo enhancement tools, this tough work is not impossible anymore. With the most powerful AI Upscaler model, users could easily enlarge photos up to 400%. Moreover, the built-in Upscale model adds a Face Refinement feature that helps retouch portraits without any effort.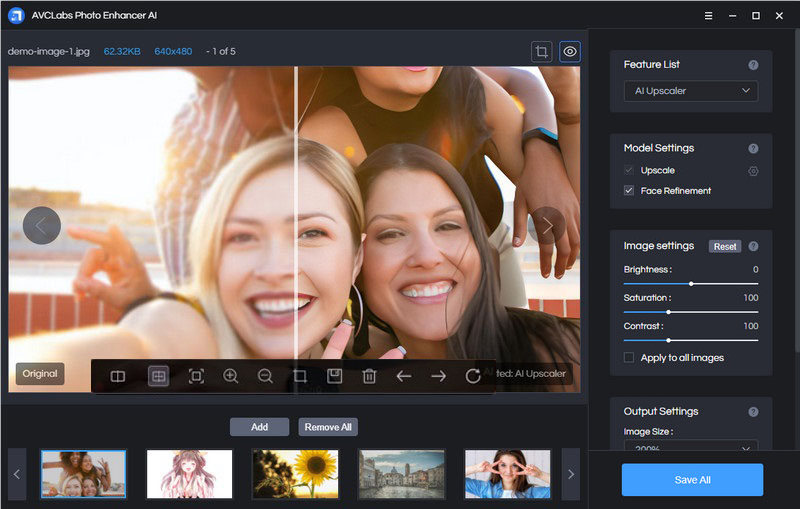 ---
Compared to Its Competitors
As I have mentioned already, AVCLabs Photo Enhancer AI is a photo enhancement/editing tool using artificial intelligence technology. If compare this AI software with the conventional photo editing apps, I'm 100% sure that it will beat 95 percent of conventional apps since AVCLabs Photo Enhancer AI is a photo editing master itself. Users of this software don't need to have any background knowledge about photo editing because it will do all the processes. Even though conventional photo editing apps like Adobe Photoshop and Lightroom have already been tested efficiently to enhance photos performance, they will be replaced by other AI products like AVCLabs Photo Enhancer AI in the future.
Currently, there are a lot of AI photo enhancement tools in the software market, I find that Autoenhance AI and Luminar AI are also welcomed by a lot of users. Both of them have a powerful processor to enhance the performance of photos. However, compared to AVCLabs Photo Enhancer AI, Luminar AI is not very friendly to new users or beginning editors since it still requires you to adjust some parameters. Autoenhance AI is more similar to AVCLabs Photo Enhancer AI but it only provides its users with the subscription depending on the number of photos. It's extremely expensive to use Autoenhance AI considering it charges $0.5 per photo.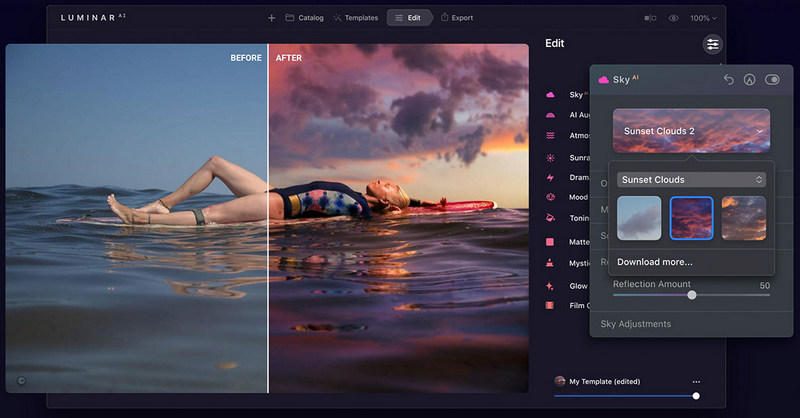 ---
Pros and Cons
As a photo enhancement tool powered by AI, AVCLabs Photo Enhancer AI does a great job on improving photos' quality automatically by adjusting color, sharpening, deblurring, etc... Additionally, it also helps users to remove backgrounds of their photos within 10 seconds. Compared to conventional photo editing software, AVCLabs Photo Enhancer AI is more efficient and powerful. What's more, this AI program is available on both Windows PC and Mac. Unfortunately, this AI program is unfriendly to users who don't have high-performance CPU and GPU.
---
Is It Worth Paying?
Well, since there are not enough customer reviews about this software, I will not say that you must pay for this software. Unlike other conventional photo editing tools, AVCLabs Photo Enhancer AI allows unsubscribed users to improve their photos with a brand watermark on the output photo. We all know that most photo editing apps will only release a few features for free, it's so hard to fully test these tools under the free version. Before you decide to pay for AVCLabs Photo Enhancer AI, you can test numerous photos without any limitations.
Additionally, the price of AVCLabs Photo Enhancer AI is almost the same as some conventional photo editing software. In this case, I would like to try the new software with advanced technology instead of a conventional one .
---
Conclusion:
To sum up, the application of AI technology on photo enhancement tools makes it possible for us to restore some old photos to HD or 4K. I have been testing on AVCLabs Photo Enhancer AI multiple times on different kinds of photos since it was released, it did a great job on improving photos quality, especially for anime photos.
Don't be hesitant to try this AI photo enhancer if you desire a versatile photo enhancement tool!
---

Video Converter

DVD Converter

Video Editor

Enhance Video Quality

Enhance Image Quality

Remove Objects