Top 5 Photo Blur Removals in 2023
Recently we have found that a lot of amateur photographers are tired of removing photo blurs since they only have limited knowledge about photo editing. Even though nowadays camera technology is advanced, blurry photos still exist because of shake, light, etc... A professional photographer may not worry about that but normal people do.
If you are interested in photography and want to know how to remove blur from your photos, we have listed the top 5 photo blur removals in 2023 below.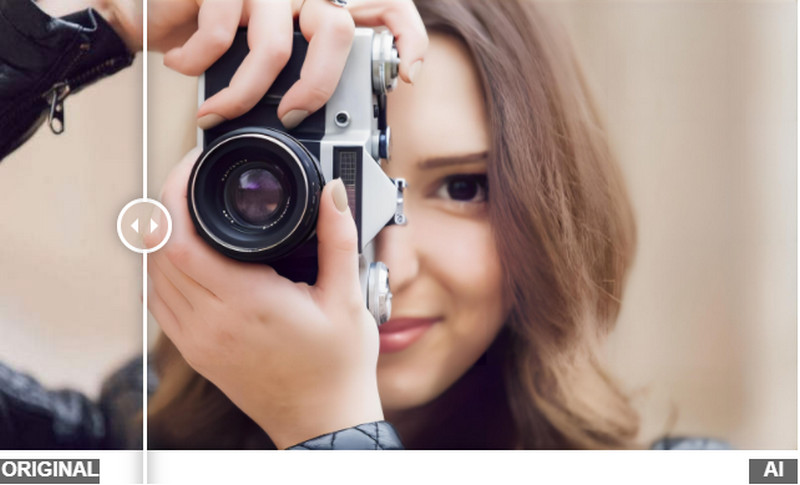 1: AVCLabs Photo Enhancer AI
AVCLabs Photo Enhancer AI is a free online photo enhancement tool developed by Anvsoft Inc. This photo enhancement tool is based on AI which means that it will automatically enhance the quality of your photos by sharpening, correcting color, and upscaling pixels. Complicated algorithms and powerful processors made AVCLabs Photo Enhancer AI become the optimal choice for people who don't have too much knowledge about photo editing.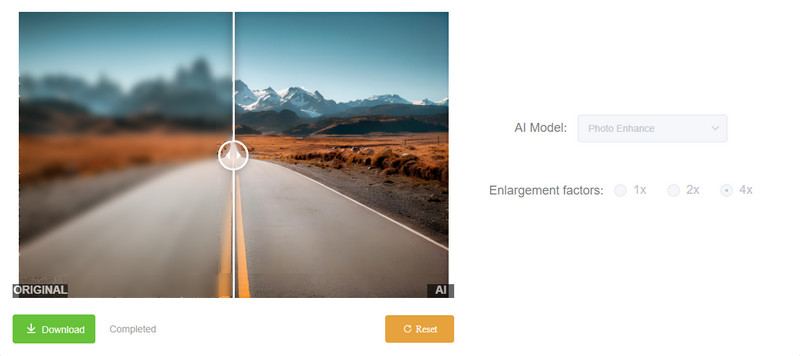 Photo Enhancer AI
Enlarge and upscale image without losing quality.
Sharpen image edges and deblur image online 100% automatically.
Upscale low-definition photos to HD.
Enhance color and contrast with only one click.
No editing skills are needed.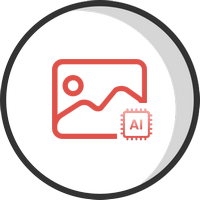 Pros:
• Very friendly to beginner
• High processing speed
• 100% free
• Users can use it online and don't need to download any software
Cons:
• Cannot support batch processing
---
2: Enhance Photo Quality
Enhancer Photo Quality is a popular photo or selfie editing app which is commonly used on mobile devices. With this app, you can easily enhance your selfies or photos by adding amazing effects, overlays, vignettes, and photo focus. In addition, you can also remove blurs from your photos easily using an adjustment tool including contrast, sharpness, and brightness. This app is good for people who prefer to edit photos right on their phones.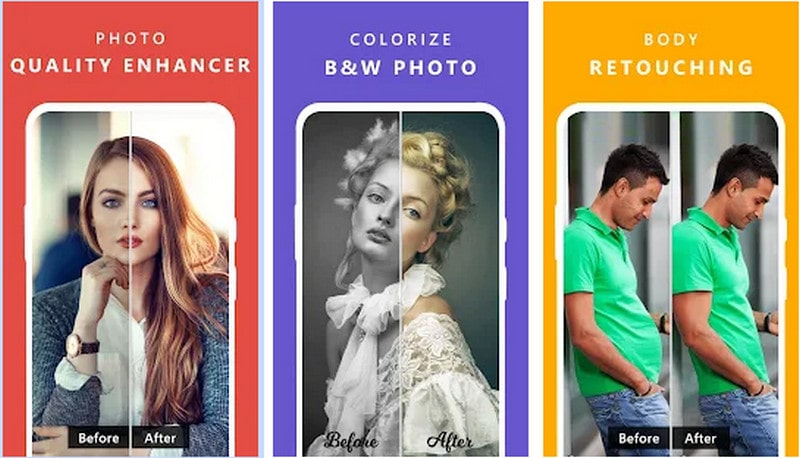 Key Features of Enhance Photo Quality:
• Color modifying options include hue, saturation, sharpness, blur, contrast, and brightness
• Multiple effects supported
• Apply lens flare for a lighting effect
• More than 50 overlays to fix your photos
---
Pros:
• User-friendly interface and easy to operate
• Real-time preview of the photo is available
• Free to use
Cons:
• Advertisements surrounded while using this app
• The sharpness tool is not powerful enough to remove all blurry parts of a photo
---
3: Photo Editor Pro
Photo Editor Pro is one of the most popular photo editing apps in the world and it has millions of users already. Like Enhance Photo Quality, it's also an app that is only available on mobile devices. However, comparing to Enhance Photo Quality, Photo Editor Pro nearly provides everything to photo editors. Not only it helps remove the photo's blur easily but also supports blurring the photo background to get DSLR Blur Effect.
Key Features of Photo Editor Pro:
• Powerful photo editing features
• Hundreds of filters to apply
• Support sharing your photos with high resolution to social media platforms
• Blur photo editor helps you blur parts of the photo or unblur the photo with an eraser
---
Pros:
• This app is good at de-blurring photos because of its powerful sharpening tools
• Support sharing high-resolution photos to social media platforms
Cons:
• You will see a lot of ads while using this app, it's not a good experience
---
4: Fotogenic
Fotogenic claims itself as the best choice for every level of photographer. Even you don't have used any photo editing app before, Fotogenic will assist you to create a master-level photo like professional photographers' production.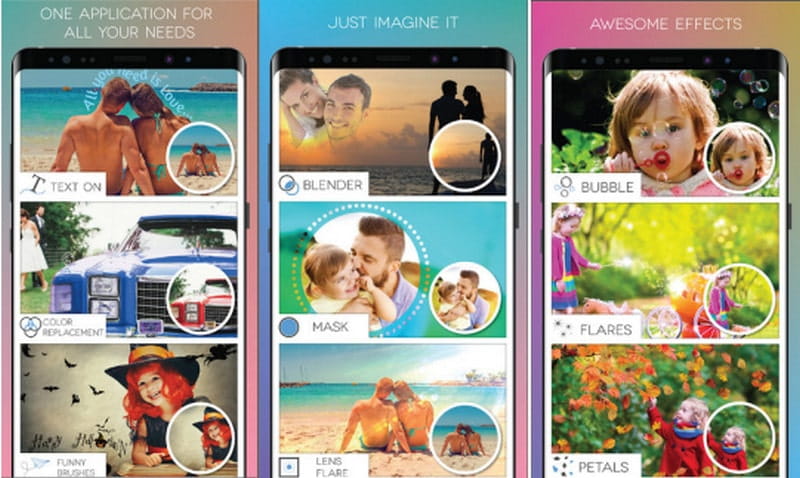 Key Features of Fotogenic:
• Adding text and effects on the photo
• Beauty: Adding a shadow for your eyes or paint a nice color for your lip, eliminate unwanted objects, reshape, defocus, detail, etc...
• Color adjustment: well-saturated colors, color replacement, filters, fix the red-eye effect, sharpen, etc...
• Paint: signature, funny brushes, weather, glowing lines, seagull, flare, etc...
---
Pros:
• Versatile features are available to users in addition to blur brush
• Most features are free to use
Cons:
• Ads are so annoying while using the app
• The De-blurring tool is not strong enough to remove photo blur easily as it's advertised
---
5: Unshake
Unshake is a free tool for amateur photographers to make blurry photos passable. It is impossible to make a blurry photo very clear but you can at least improve it to a normal photo. Unlike an AI-based photo enhancement tool, you need to modify some parameters by yourself. The wrong combination or modification would hurt your photos.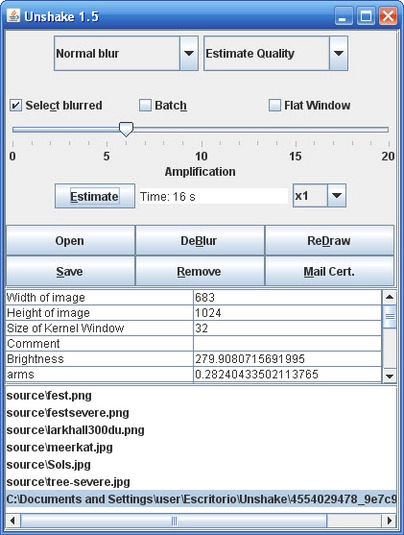 Key Features of Unshake:
• Sharpen blurry digital photos
---
Pros:
• Very simple interface and easy to operate
• Fix your blurry photos quickly
• No complicated settings or any knowledge of photo editing
Cons:
• Very limited features as a photo editor
• De-blurring is not significantly effective as it's advertised
---
Conclusion:
All the 5 tools mentioned above have been tested effective to remove photo blur to some extent. But if you are not very experienced editing photos, we highly recommend you to try AVCLabs Photo Enhancer AI that could make blurry photos HD in just a few minutes.
---

Video Converter

DVD Converter

Video Editor

Enhance Video Quality

Enhance Image Quality

Remove Objects