Top 6 Best Free Video Editing Software with No Watermark
"What is the best free video editing software without a watermark?" - Jacob Breniac
Are you looking for the best free video editing software with no watermark? Video editing is a complex task, and learning how to edit videos can be difficult. Thankfully, there are plenty of free video editing software options available that don't require you to deal with a watermark if you want to use them.
If you don't have access to advanced video editing tools or equipment, it can be challenging to make video clips look the way you want them to. Fortunately, there are free video editing software with no watermark that can help you get your videos looking exactly how you want them in no time at all.
In this blog post, we will talk about why you need an editor and what features to consider when choosing one. We have picked the 6 best free video editors without watermarks out there so that you can choose the one that suits your needs best!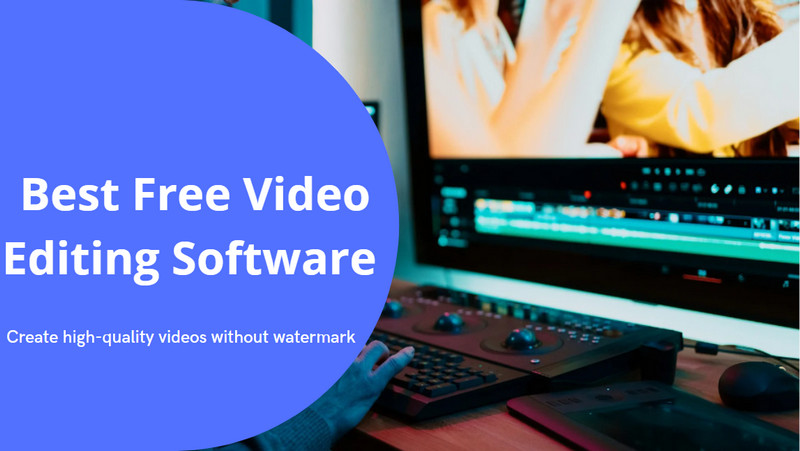 Part 1: What to Look for in Video Editing Software
If you're looking for the best video editing software, you'll want to consider several factors, including the program's ease of use and cost. You'll also want to think about the kind of video you want to make and the features you need to create it. If you're just looking to make simple videos for social media, you can use almost any basic video editing software. If you want to make more complex videos, however, you may need advanced video editing software. You can choose the best video editing software for your needs by reading reviews and comparing features. You should also try to find video editing software that lets you choose between different modes. Modes can help you learn new skills, or they can let you make specific types of videos.
---
Part 2: Top 6 Best Free Video Editing Software with No Watermark
Turning to a suitable video editor without watermark is a good choice. Which is the best video editor without watermark? Here we collected a list of 6 best free video editing software no watermark.
1. AVCLabs Video Enhancer AI - Windows/MacOS
AVCLabs Video Enhancer AI is a great AI-based video enhancement tool to help get rid of any noise or blur in your videos and change the brightness, contrast, and saturation of your videos to achieve the perfect balance. It is aimed to enhance the video quality automatically by super-resolution, denoising, deinterlacing, sharpening, blurring out faces automatically in videos, etc. Powered by the AI technology, it deals with everything automatically, no advanced video editing skills are required.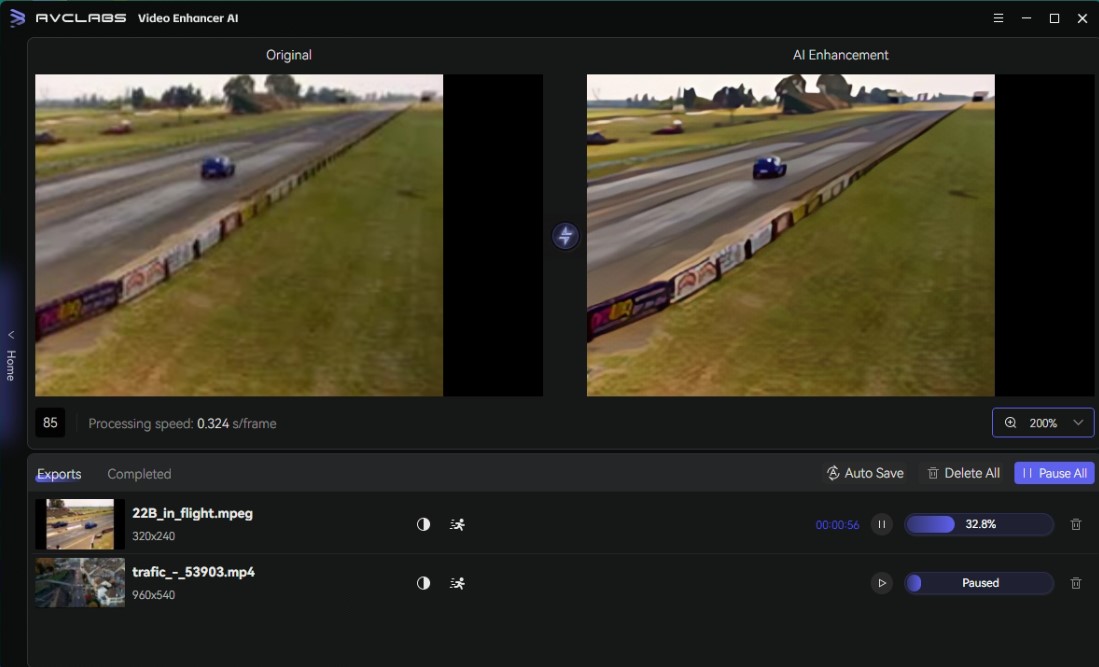 Video Enhancer AI
Enhance the video quality to make them more aesthetically pleasing.
Upscale videos from SD to HD, HD to 4K.
Sharpen faces from blurry video and enhance facial details.
Support denoising and deinterlacing videos as well as cropping videos to fill frame.
Support adding blur to a moving face in a video to protect privacy.
Support GPU & TensorRT acceleration.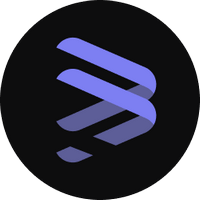 How to Improve Video Quality Using AVCLabs Video Enhancer AI
Step 1
Install and Launch AVCLabs Video Enhancer AI
Warm reminder: Before upscaling videos from 1080p to 4K, you can click here to check whether your CPU or GPU is capable of improving videos quality with AI.
Download AVCLabs Video Enhancer AI from the link given above and then simply launch it after it has been installed on your computer.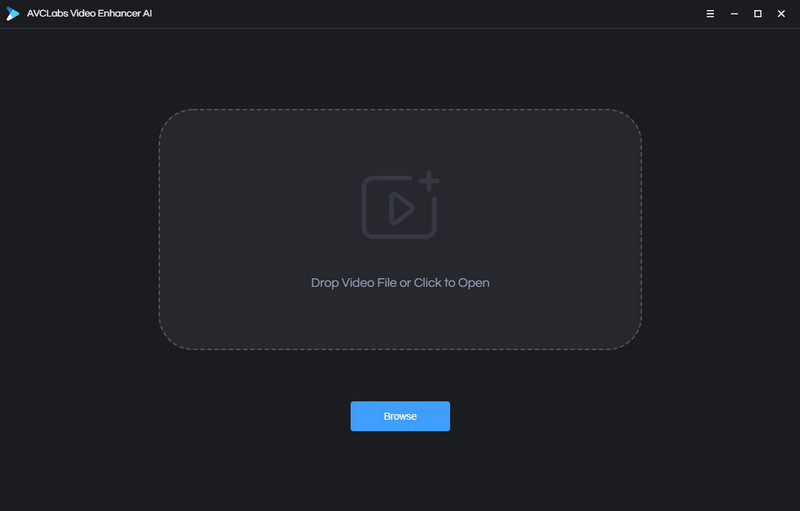 Step 2
Add Video Files You Need to Improve and Select the AI Model and Set the Output Parameters
Import a video you need from your computer, then you need to modify some critical parameters like processing AI model, output resolution, output format and output path, brightness, contrast, and saturation.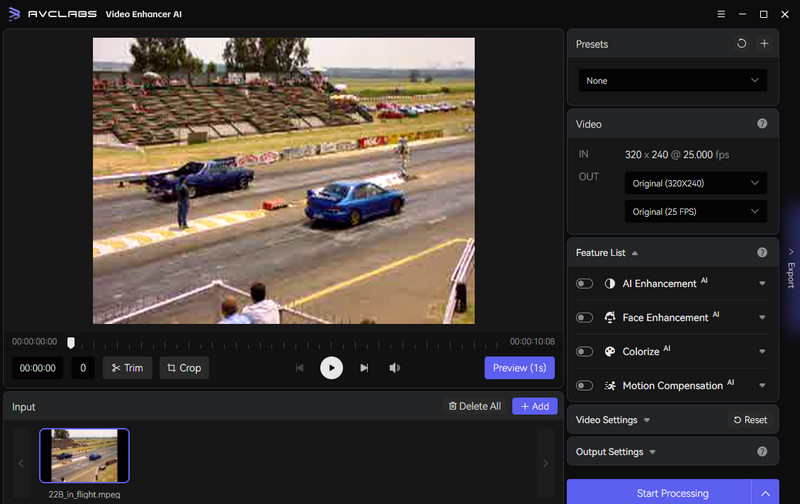 Before enhancing the video, you are able to trim the unwanted parts frame by frame to save processing time. At the bottom of the program, you can trim your video to the desired length by dragging the slider bar. Or input the start and end of the frames to set a clipping point accurately.

Once all the preparation work is done, click the Start Processing button to enhance videos automatically. The final processing time depends on your computer's system configuration, video size. Please be patient.
After the AI video enhancing process is completed, just open the file folder to check and enjoy the improved video.
---
Pros:
• User-friendly UI for beginners
• Dedicated AI Face Blur model to blur multiple moving faces in videos smartly
• Various input and output video formats, and AI models are supported
• Sharpen blurry faces from low-res videos and enhance facial details
• Video editing can be paused and resumed again
• Offer a free trial to test full features before going to a premium plan
• Available on Windows PC and Mac
Cons:
• Online version is not available
---
2. Any Video Converter Free - Windows/MacOS
As a free videos editor for Windows without a watermark, Any Video Converter Free does a pretty job in editing videos, which allows you to free trim any video files into several clips , merge multiple media files into one to make your own video, cut off unwanted borders from a video frame to feature a favorite clip, rotate to bring the action to put a new angle on the action, customize brightness, contrast, saturation, resolution to get the best effect, add subtitle, add watermark, etc.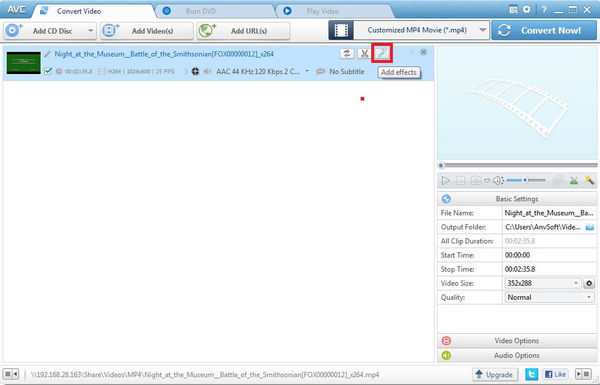 Any Video Converter Free
Edit video clips with cut, crop, and special effects.
Download videos and music from 100+ sites.
Convert CDs & videos to 200+ formats.
Burn any video to blank DVD disc to create DVDs.
Support NVIDIA NVENC hardware acceleration.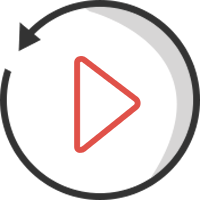 Pros:
• Easy to use
• Totally free
• Support a wide range of media formats
• Excellent filters and effects
• Update frequently with fixes and new features
• Available on both Windows PC and Mac
Cons:
• File conversion cannot be paused, only canceled
---
3. VSDC Free Video Editor - Windows
VSDC is a free video editor for Windows PC users. It brings an array of tools that will help you apply minor edits like trimming a video, adding text, and removing the soundtrack – as well as more in-depth montage techniques like color correction, FX, and blending. It is a good choice for both beginners and professionals.
In addition to those features, it is also equipped with extra functions like DVD burning, video converter, video capture, and more. If you want to turn clips into videos via basic skills, this app is advisable for you.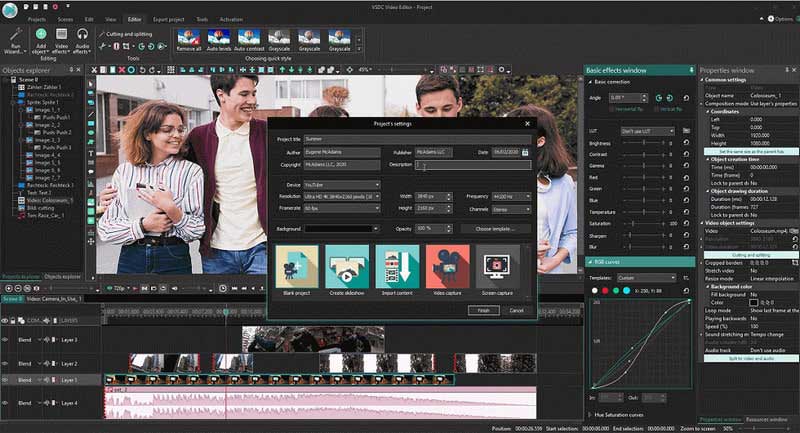 Pros:
• Support a wide range of image/audio/video formats
• Powerful features: chroma key, 4K, color wheel, 360 VR, and PiP
• Non-linear editing
• Offer options to export edited videos to social media
Cons:
• Runs only on Windows
• Interface lacks polish
• Most of the functions are hidden in submenus
• Lack full-screen video preview
---
4. OpenShot - Windows/MacOS/Linux
Openshot is another open-source, free video editing software without watermarks. Of all tools, this one is probably one of the most newbie-friendly editors, and it works on any operating system (OS) including Windows, macOS, Linux, and Chrome OS. The software allows you to make professional-looking movies from your photographs, videos, and music files. You can also easily add subtitles, special effects, and transitions. The created movies can be exported to DVD, Xbox 360, Vimeo, YouTube, and other numerous formats.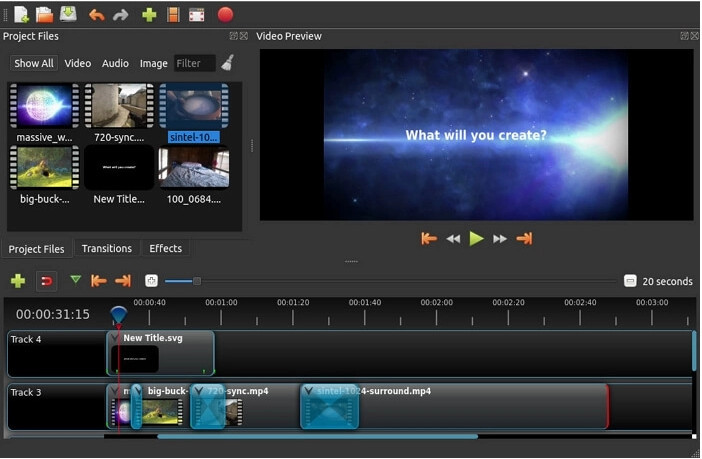 Pros:
• 100% free, open-source video editor free no watermark
• Export to many devices or straight to DVD
• Allows exporting 4K HD video
•Support multiple video/audio tracks
• Routinely updated for better functioning
Cons:
• Some users claim that the editor is buggy
• The program isn't as fast as some of the competitors
---
5. iMovie - MacOS/iOS
iMovie is a simple but powerful video editing software that lets you create high-quality videos with no watermark. This software offers many of the same features as advanced video editing software, but it's designed for beginners. You can create videos with visual and audio effects, add photos and music, and even use iMovie's special tools to edit video clips. If you're new to video editing, iMovie is a good software to start with. This program comes with several helpful guides and guides that can help you learn how to edit videos quickly. iMovie also supports many different types of media, including photos and music. This software even lets you record your voice and add it to your videos.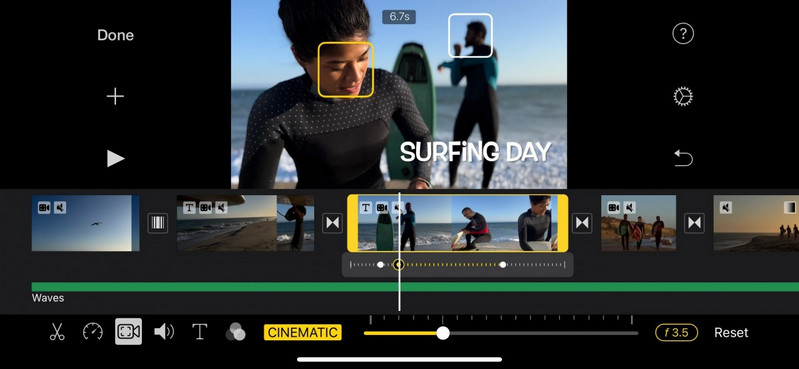 Pros:
• Support 4K video files in MOV format
• Support video/audio/image editing
• Numerous options for filters, themes, and credits are available
• Create Hollywood-grade movies with ease on your own home computer
• Work across the Mac family of devices
Cons:
• It is challenging to use the clip color correction function
• There's no version for Windows 10, 7, etc., or Android
---
6. Clipchamp - Online
Clipchamp is an online video editor without watermark that helps to make a video more engaging for the viewers. It provides you plenty of useful and beautiful video templates. You can easily find the most suitable template for any occasion, such as YouTube, TikTok, Facebook, etc.
If you're a creator working on a video for social media, perhaps the most convenient part about this editor is its extensive gallery of stock media files, including royalty-free videos, images, and sounds. The app even has built-in stickers and a GIF gallery from GIPHY.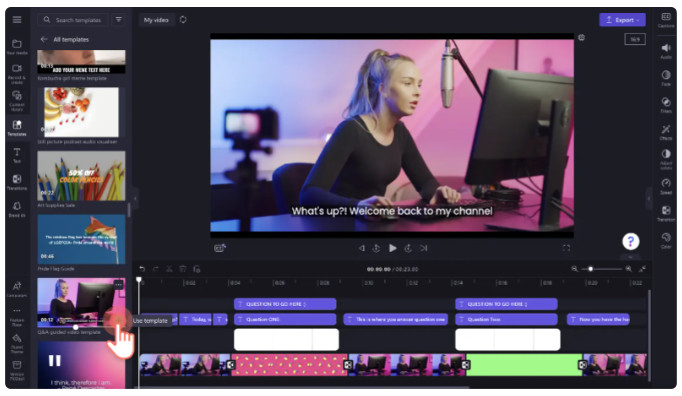 Pros:
• Various customizable templates available
• Supports a wide range of input formats including MOV, AVI, MP3, MP4, JPG, PNG, and many more
• Equipped with all the editing features that can make any simple video look professional
• Edit clips of all sizes directly in-browser without the hassle of inconvenient uploads
Cons:
• The editing process sometimes becomes slow
• Exporting videos takes a lot of time
• Limited control over effects
---
Conclusion:
Now that you know what video editing is and why it's important, it's time to get started. Video editing software is complex, but if you pick the right one, it doesn't have to be difficult. You can create amazing videos with the best video editing software. To find the right program for you, you'll need to think about which features are most important to you. You can create almost any type of video with video editing software. Now it's time to pick the best video editing software for you.
If you are a beginner and hasn't mastered advanced video editing skills, but you still want to explore more video-editing features, just download AVCLabs Video Enhancer AI for Windows PC and Mac and have fun making astonishing videos!
Try AVCLabs Video Enhancer AI to breathe new life into your footage!
---

Video Converter

DVD Converter

Video Editor

Enhance Video Quality

Enhance Image Quality

Remove Objects