Best 5 Video Quality Enhancers Online to Improve Video Quality Online
"How can I enhance video quality online for free? Is there any online video enhancer recommended? Thanks." - Douglas Branson
Video quality is something that the majority of us don't think about when shooting a video. It's not until we upload it to a platform such as YouTube or Instagram, or until we share it with someone that we notice just how bad the video quality is. Unfortunately, no matter how much technology advances, it seems like video quality remains at the same place as before. The degradation of image resolution and compression is inevitable for every digital file, especially for those who love uploading or streaming videos on the internet. The good news is that there are ways you can improve your video files and make them look better than ever before.
This article will introduce you to 5 best video quality enhancers online! Let's check them out!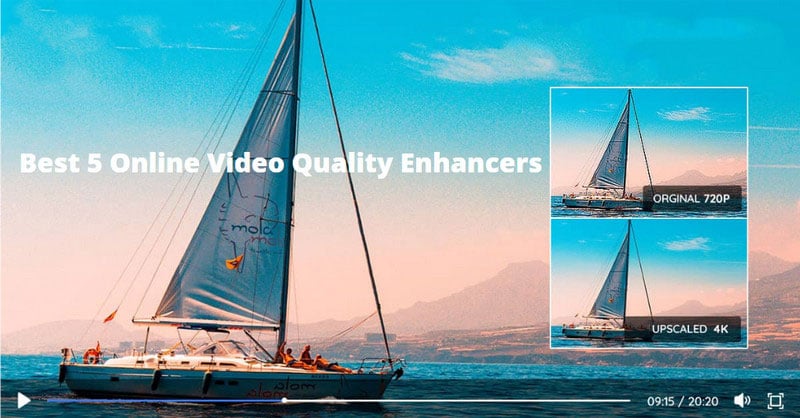 Part 1: What Is Video Quality Enhancer
A video quality enhancer is a tool that improves the video quality of a digital file. It makes videos look more presentable, despite their lack of high quality. You can use video quality enhancers online to improve the video quality of a video that you already have. A good video quality enhancer can reduce video noise, remove video pixelation, and improve overall contrast and brightness. The best video quality enhancers use artificial intelligence to ensure that your video looks as good as possible. They use algorithms and advanced technology that you might not understand. Video quality enhancers can be a huge help if you're in a bind and need to get a video online quickly. You can use a video quality enhancer to quickly improve the quality of your video so that no one notices that it is low quality such as blurry, low-res.
---
Part 2: Best 5 Video Quality Enhancers Online
1. Clideo Video Enhancer Online
Clideo is a comprehensive, fast, free video enhancer online that allows you to increase the quality of your videos in clicks. You can use it to cut, add text, pictures, music or videos, add stickers, filters and effects, add text/logo watermark to give it a better appearance. It also helps change the color, contrast and brightness of videos to improve video quality.
Pros:
• Inexperienced user friendly
• More video editing property
• Color upgrading capability
Cons:
• It supports a limited number of file formats
• It is not free
---
2. Online Video Enhancer - FlexClip (Free & No Watermark)
If you're looking for a free online video enhancer without watermark, FlexClip should be a good choice. It offers a free version to help you improve your video quality online for free without watermark. FlexClip allows you to add text, images and music to enhance your video. You can also add stickers, filters and special effects to your video. One special feature of FlexClip is the option to crop the video for a better viewing experience. You can even add an end card to your video.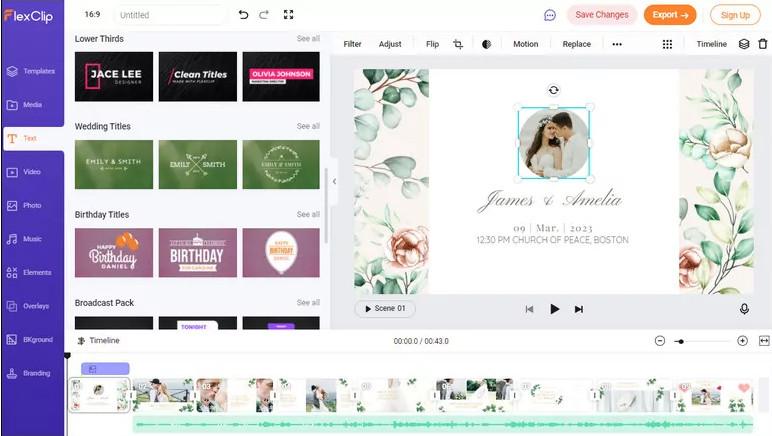 Pros:
• More advanced editing features
• It provides a variety of filters
• It supports a high-quality resolution
• Noise remover
Cons:
• Not easy to use for beginners
---
3. Clipchamp - Online
Clip Champ is also one of the most utilized free video resolution enhancers online that helps its users to edit and improve the quality of their clips. Using this tool, you are able to trim, crop and merge videos, add text, transitions, sound effects, and much more.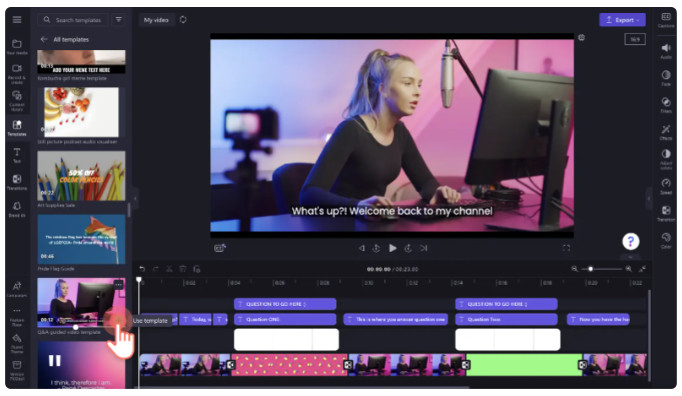 Pros:
• Compress, convert, collect, record, and create videos without any hassle
• Produce videos with media assets from the stock library
• Reduce file size, convert clips to MP4, and more
• Offer customizable video templates
Cons:
• You need to pay for additional features
---
4. Kizoa
Kizoa is another free online video quality enhancer for you to enhance videos quickly and produce high-quality results. It is also best for online slideshow, movie, and video editors that grants you access to a huge library of visual effects, you can apply for free to all video clips you edit with this platform.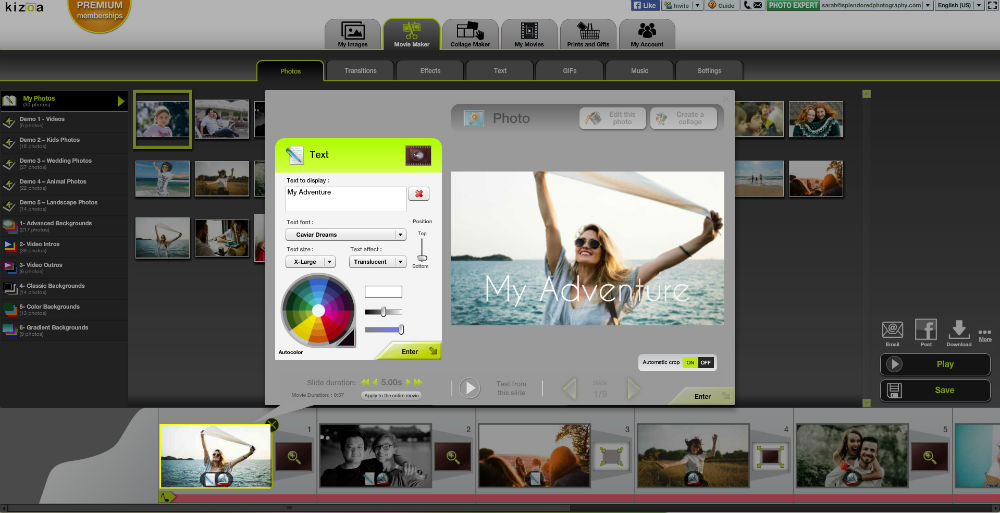 Pros:
• Registration is not required
• Provides a pre-made video template
• Offer editing tools for cropping, straightening, rotating, and more
Cons:
• Require a stable internet connection
• Only Pro plan offers Full HD recording
---
5. Design Wizard
Design Wizard is the last but not the least video enhancer online. With the help of this free web-based video enhancement, improving the video quality online is effortless. It equippes with attractive templates to create an incredible customized video. In addition, it is supplied with thousands of good-quality videos, images, and graphics that are mostly free to use.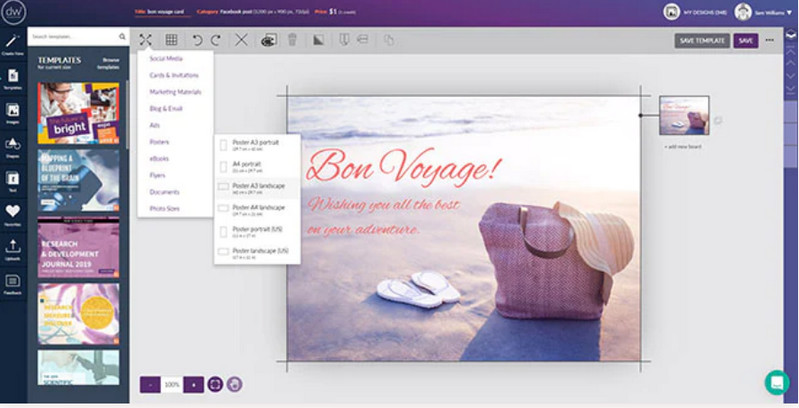 Pros:
• Thousands of unique templates are available
• User-friendly interface
Cons:
• Limited features using the free version
•Require a high-speed internet connection for a smooth experience
---
Bonus: AI Video Enhancer Software Alternative to Online Video Enhancers
These are numerous good online video enhancing tools available to you. However, if you need advanced functionality to make a higher level of modification in your videos, you need to use desktop software instead of an online one.
AVCLabs Video Enhancer AI is such a powerful AI video enhancement tool that enables you to enhancing the video quality by upscaling low-res videos like SD (480p), HD (720p) to 1080p or 4K, even up to 8K, denoising, deinterlacing, sharpening such as sharpening faces and enhancing facial details in blurry videos. If you wanna blur faces in videos for data privacy, the AI Face Blur model of AVCLabs Video Enhancer AI can make it possible.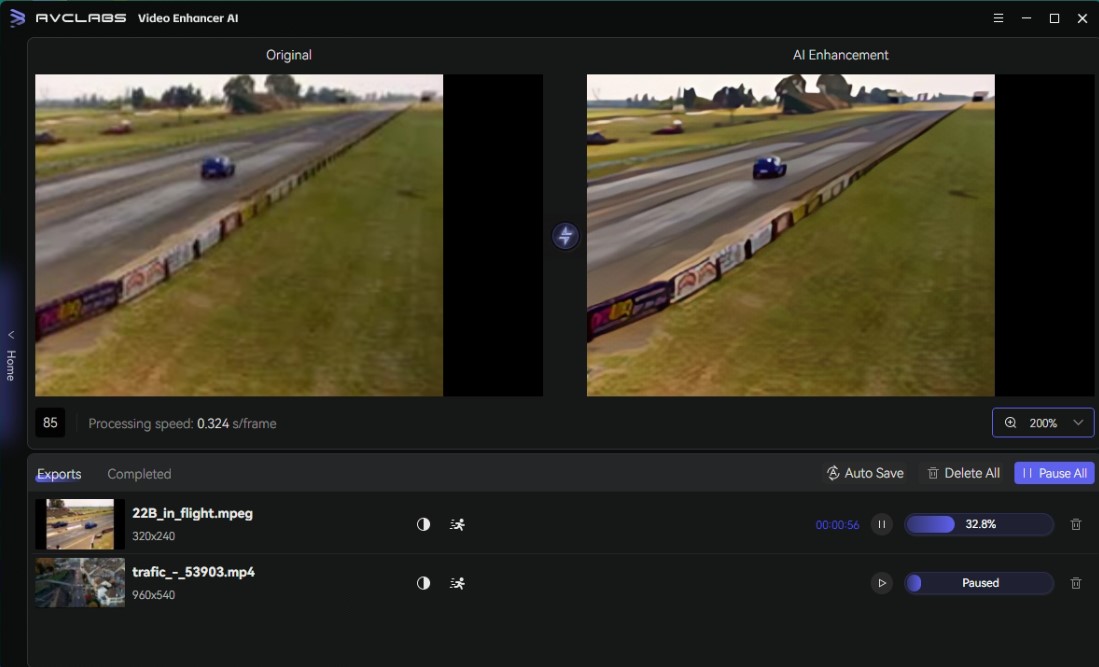 Video Enhancer AI
Enhance the video quality to make them more aesthetically pleasing.
Upscale videos from SD to HD, HD to 4K.
Sharpen faces from blurry video and enhance facial details.
Support denoising and deinterlacing videos as well as cropping videos to fill frame.
Support adding blur to a moving face in a video to protect privacy.
Support GPU & TensorRT acceleration.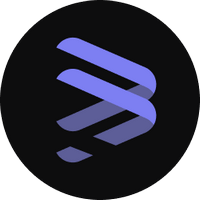 How to Improve Video Quality Using AVCLabs Video Enhancer AI
Step 1
Install and Launch AVCLabs Video Enhancer AI
Warm reminder: Before upscaling videos from 1080p to 4K, you can click here to check whether the configuration of your computer is capable of improving videos quality with AI.
Download AVCLabs Video Enhancer AI from the link given above and then simply launch it after it has been installed on your computer.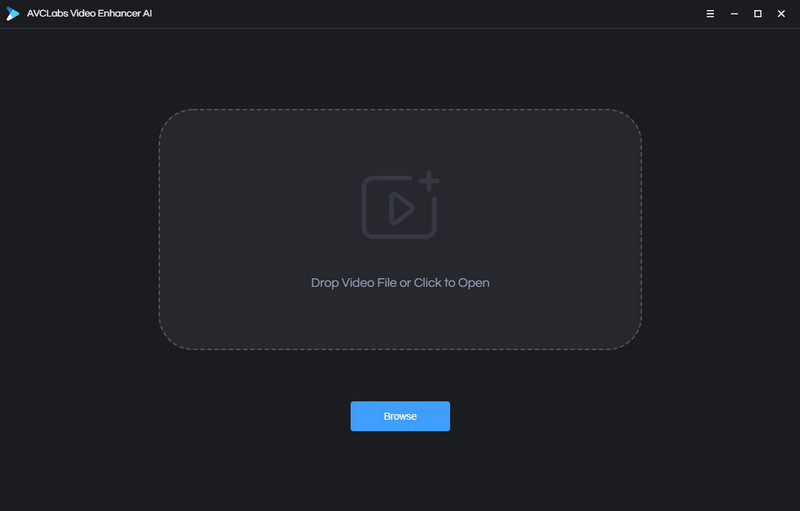 Step 2
Select the AI Feature and Set the Output Parameters
Import a video you need enhance from your computer by clicking the "Browse" button, then you need to select a suitable AI feature according to your need.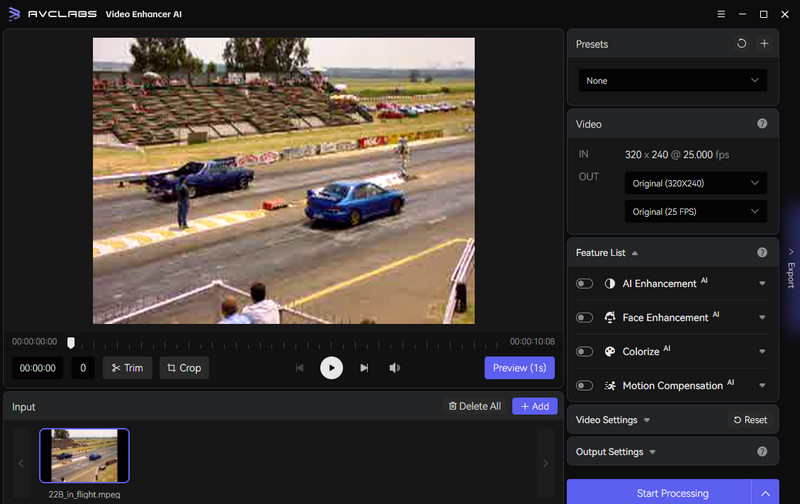 After selecting the AI feature, you can also manually adjust the brightness, saturation, and contrast of your videos to enhance the visual quality. In addition, there are also options like cropping to fill the frame and deinterlacing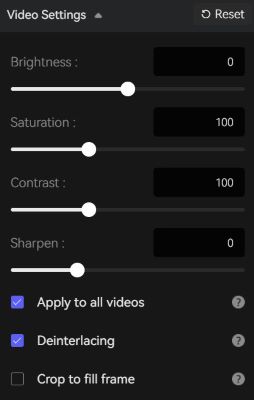 Before enhancing video quality, you should set the output foramt and output path in the Output Settings part.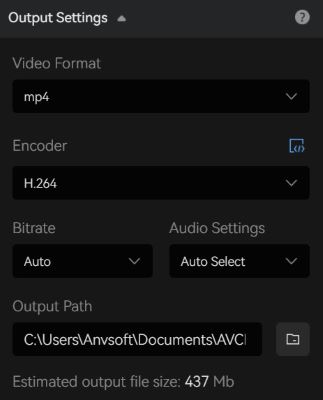 You are allowed to trim the unwanted parts frame by frame to save processing time before enhancing the video quality. You can trim your video to the desired length by dragging the slider bar at the bottom of the program. Or simply input the start and end of the frames to set a clipping point accurately.

After that, click on the Start Processing button to enhance the video quality automatically. The final processing time depends on your computer's system configuration, video size. Please be patient.
After the AI video enhancing process is completed, just open the file folder to check and enjoy the improved video with high-quality.
---
Pros:
• User-friendly interface and various AI models for beginners to get started
• Multiple input and output video formats are supported
• Sharpen blurry faces from low-res videos and enhance facial details
• Video enhancing process can be paused and resumed again
• Offer a free trial to test full features
• Available on Windows PC and Mac
Cons:
• Online version is not available
---
Conclusion:
Video quality enhancers are an invaluable asset for bloggers, vloggers, streamers, and anyone who is in need of lifting their videos up to the next level. You will be able to make your videos look amazing, even if they're not in HD-quality. And that's all there is to it!
As you can see, there are a number of free online video enhancers that you can use to improve the quality of your videos. Be sure to try them all and see which one works best for you. But almost all of them are not as feature-rich as software that you can install on your computer. That's why we recommend you an easy-to-use yet functional AVCLabs Video Enhancer AI here.
Try AVCLabs Video Enhancer AI to breathe new life into your footage!
---

Video Converter

DVD Converter

Video Editor

Enhance Video Quality

Enhance Image Quality

Remove Objects